Finish reading Me Before You. I wasn't expecting such ending. Huhu. Nak spoil kat sini ke? Haa..Kasi spoil sikit la noh. Will Traynor ended his life at Dignitas. Fullstop. How it happened? Why? Kena baca sendiri la novel tu.
Tertarik dengan isu suicide dalam novel ni. Dalam erti kata lain, bunuh diri dengan cara yang tak sakit iaitu dengan telan ubat. At first, aku ingat author hentam bubuh je tempat dia mati kat Dignitas tu. Hati tiba tiba terasa nak search kat internet and to my surprise, Dignitas does exist! Dignitas atau assisted dying organisation telah ditubuhkan sejak 1998 dimana mereka membantu orang yang nak bunuh diri secara suka rela. Most of the cases, orang yang mengidap severe physical and mental illness yang banyak datang situ untuk bunuh diri. You know why? Sebab dorang rasa putus harapan nak hidup.Rasa dorang dah tak ada guna lagi kat dunia ni. Bagi dorang,mati lagi bagus dari mereput kat atas kerusi roda and jadi gila.Nauzubillah.
Dignitas ni terletak kat Zurich, Switzerland.Paling banyak orang yang datang situ ialah orang Germany. Cara bunuh diri pulak, doktor akan suntik dadah antiemetic, disusuli dengan dadah pentobarbital yang dilarutkan dalam air atau jus. Dadah ni akan buatkan patient jadi pening dan tidur just 5 minutes after taking it.Lepas tu, within 30 minutes, dadah ni akan rosakkan sistem badan dan matilah seseorang itu.So sad =( Kos nak bunuh diri pun ada. Bukan sikit, almost 15k dollars.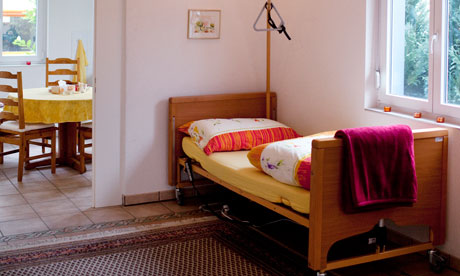 Bilik yang disediakan di dalam Dignitas clinic.Credits to www.guardian.co.uk
Tak dapat bayang macam mana dorang boleh tergamak nak bunuh diri sendiri. Ada yang cakap, its human's rights. They deserve to make choices in life.Tapi, kenapa harus pilih cara ni? Macam melawan kuasa Tuhan pun ada. Kalau dalam Islam, dikira dosa besar bunuh diri ni.Orang cakap, tanah tak terima.Huhuhu. Ternyata, tak semua orang Swiss setuju dengan penubuhan Dignitas ni.
Ada satu kes ni, si bini hidap cancer tapi si suami sihat walafiat.Dek berpegang teguh pada prinsip hidup mati bersama, dua dua register bawah Dignitas and together they die. Hebat sungguh kuasa cinta noh.
Ini ada satu kisah dari mak si mati yang menggunakan khidmat Dignitas clinic untuk 'lepaskan' anak dia.
http://www.mirror.co.uk/news/real-life-stories/i-let-my-son-end-his-life-because-i-love-691223
After I read it, I can conclude that people that choose to die rather alive is a quitter. They stop believing in God's love and power.Hidup hanya sekali.Hargailah sepenuhnya.Tambah kita yang Islam ni, agama kita tak mengajar kita untuk berputus asa apatah lagi bunuh diri. Walau seberat mana pun dugaan yang Tuhan berikan kepada kita, walau tak sempurna mana pun kita, pasti ada hikmah di sebalik semua tu. Dugaan datang, kita tempuh.Bukan lari dari dugaan dengan bunuh diri. Such a waste.